| | |
| --- | --- |
| | Visit by a class of college students |
In the course of a voyage of discovery, a new option offered at colleges, on the theme of "Alsace, between France and Germany", a fourth-year class from the Charles Péguy de Wittelsheim College (68) visited Seppi Landmann to learn about the Alsace wine region, vine management and wine making.
He first led the college students to the information board erected by CIVA (The Interprofessional Committee of Alsace Wines), on the road leading from Soultzmatt to Orschwihr, opposite Zinnkoepflé.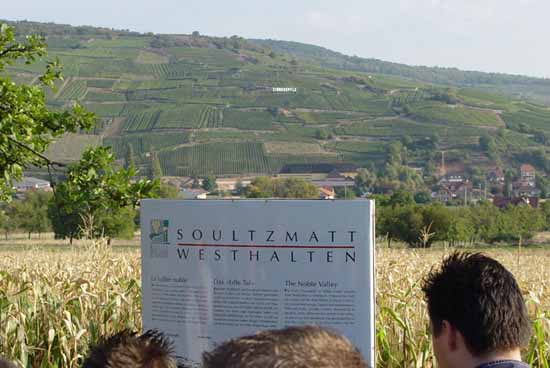 Martin Kriegelstein's coat of arms
There, he answered a first round of questions, put by Dimitri and Rémy, about the subject of varietals (their names, their origins and their etymologies) and about the Grand Cru appellation. Seppi also confirmed his preference for the production of varietal wines rather than the blends (called "gentils") which some of his colleagues prefer. He also pointed out that "Zinnkoepflé" means "little sunny hill" (to which the coat of arms of Martin Kriegelstein found on the wall of his house may refer).
Then he took them across to the very top of the vineyard, to the East of Zinnkoepflé, where they discovered a magnificent outlook over the Vallée Noble and the neighbouring villages.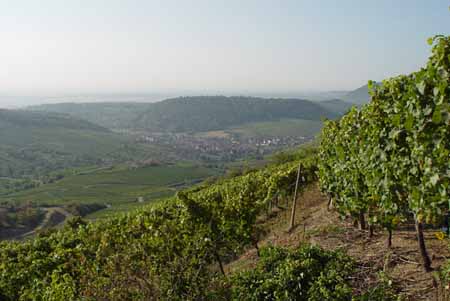 Standing between two rows of riesling vines, Seppi described this varietal and explained how to distinguish it from others. He also went over the different stages of work on the vines, from pruning to the harvest. Then he offered the students some beautiful bunches of grapes to taste.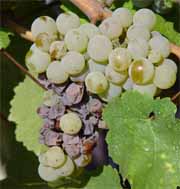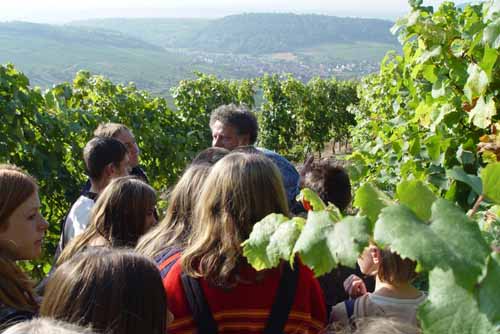 ---