After a year's break, due to the estate's 20th anniversary celebrations (see our Archive pages for descriptions of the tasting and banquet) we have again begun holding our gastronomic banquets, starting with an unannounced one.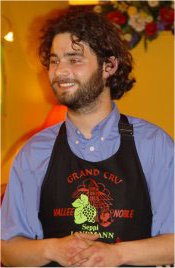 Cyril, Seppi Landmann's cellar master, comments on the relationship between the dishes and the wines.
25 April, at 8 pm : at the Restaurant La Petite Palette (Neuf Brisach)
16 rue de Bâle à Neuf Brisach (68600)
Oenological dinner
The evening was a great success, with requests for reservations exceeding the seating capacity of the restaurant. In the warm atmosphere of a wainscoted room, the guests were able to enjoy the subtlety and refinement of the dishes prepared by Henri Gagneux. In the absence of Seppi Landmann, Cyril, his cellar master, introduced the estate and the wines, chosen for their ability to provide an ideal complement to the dishes. Moving non-stop from table to table, he elicited open exchanges, frequently full of praise, on the subject of the chef and the wine-maker.